Eastern Ratsnake
Pantherophis alleghaniensis
** Harmless **
| | |
| --- | --- |
| Common Name: | Eastern Ratsnake |
| Scientific Name: | Pantherophis alleghaniensis |
| Etymology: | |
| Genus: | Pantherophis |
| Species: | alleghaniensis refers to its habitat in the Allegheny Mountains. |
| Vernacular Names: | black ratsnake, Alleghany black snake, black chicken snake, black Coluber, black pilot snake, black racer, blue racer, chicken snake, mountain black snake, mountain pilot snake, pilot, racer, rat snake, rusty black snake, scaly black snake |
| Average Length: | 42 - 72 in. (106.7-183 cm) |
| Virginia Record Length: | 79.8 in. (202.8 cm) *Note: The eastern ratsnake is the only 6+ foot snake found in Virginia |
| Record length: | 101 in. (256.5 cm) |
PHYSICAL DESCRIPTION: This species is plain, shiny black, at times showing traces of a spotted pattern when the skin is distended. The light areas are chiefly confined to the skin between the scales, and may be white, yellow, orange, or red. The belly is diffused or clouded with gray or brown on white or yellowish, but usually with some indications of checkerboarding, at least toward the head and chin. Adults are usually 42-72 inches in length. Outside Virginia, the record length is 101 inches *11523*. In Virginia, maximum known SVL is 1710 mm (67.3 in.) and maximum total length is 2028 mm (79.8 in.). Tail length/total length ratio averages 16.9+/-1.6% (11.2-23.6, n=209) *10760*. The longevity record for the black rat snake is 22 years and 11 months *11523*.
COLORATION and PATTERN: Body uniformly black dorsally in adults; some individuals with faint black stripes on a gray-black body or with juvenile pattern incompletely obscured; venter with an irregular black and white checkerboard pattern interspersed wit black smudges, pink may replace white in some individuals; ventral pattern fades posteriorly becoming all gray in older adults but a black and white pepper pattern in younger individuals; chin and anterior portion of venter of the neck plain white; white pigment also occurs on the lower half of the supralabials. The body in imaginary cross-section is shaped like a bread loaf, with a flat venter.*10760*
SEXUAL DIMORPHISM: There is no sexual dimorphism in color or pattern. Adult male snout vent length (908-1710), avg. = 1182.1+/-187.1, n=124) is similar to adult female SVL (910-1590), avg. = 1136.1+/-156.0, n=54). Sexual dimorphism index is -1.04. Males attain longer total lengths (to 2028 mm total length) than females (to 1884 mm). The average ratio of tail length to total length is higher in males (avg. =17.5+/-1.4, 15.1-23.6, n=107) than in females (avg. = 15.7+/-1.3, 11.2-18.0, n=47). Average ventral scale counts are slightly higher in females (233.4+/-7.3, 214-272, n=50) than in males (230.7+/-3.9, 220-246, n=112). The average number of subcaudal scales is higher in males (82.5+/-5.7, 64-94, n=96) than in females (74.3+/-8.6, 46-88, n=45), but the average number of ventrals + subcaudals is similar between sexes (males 313.3 +/-7.6, 290-337, n=95; females 308.4+/-11.5, 275-348, n=44).*10760*
JUVENILES: In contrast to adults, juveniles exhibit a strong pattern of black to dark brown blotches dorsally (avg. = 33.5+/-2.9, 28-40, n=36) on a peppered black and white to gray body. The anterior blotches have anterior and posterior projections on the corners. The brown and white venter forms a checkerboard pattern. There is a distinct brown stripe that starts in front of the eye and runs to the margin of the mouth. These are connected by a brown band across the dorsum of the head. the venter of the tail has an irregular dark stripe along each side. The juvenile pattern is usually obscured at a SVL of about 650 mm. Some young adults may exhibit a faint dorsal blotch pattern, as well as full-grown adults in some areas.*10760* At hatching, juveniles in Virginia average 284.6+/14.2 mm SVL (258-318, n=48), 343.9+/-17.3 mm total length (317-391, n=47), and weigh 9.4-13.2 grams (avg. = 11.7+/-1.2, n=21)*10760*
CONFUSING SPECIES: Adult black rat snakes may be confused with adult Coluber constrictor, however, the latter has entirely smooth scales, a round body in cross section, and the white pigment is confined to the chin. Juvenile C. constrictor lack the eye-jaw stripe, the checkerboard pattern on the venter, the projections on the dorsal blotches, and the stripes on the venter of the tail. They also possess 1.5 to 2 times the number of dorsal blotches. Juveniles are sometimes confused with small Agkistrodon contortrix, but copperheads have brown hourglass-shaped crossbands and a yellow tip tail.
REPRODUCTION: They emerge from hibernation in April and mate in May or June. The eggs are laid in July, and often buried in loose dirt or humus. The eggs are about 1 x 1.5 inches and hatch in late August or September *1008*. There are from 5-25 eggs per clutch *1014*. Natural egg-laying sites include standing and fallen hollow trees, compost and mulch heaps, sawdust piles, and decomposing logs. Some sites are used repeatedly by P. alleghaniensis. Male combat sometimes preceeds mating. Known mating dates are between 26 May and 9 June. Recorded egg laying dates are 3 June-17 July. Eggs average 42.8+/-6.2 x 24.7+/-4.3 mm (length 34.0-57.3, width 19.3-39.5, n=61) and weigh 9.0-13.1 g (avg. = 11.6+/-0.8, n=26). All mature males and females I measured were over 900 mm in SVL. Length of incubation was 60-65 days and hatchlings emerged 30 August-30 September. *10760*
BEHAVIOR: This species is an excellent climber *1013,882*, and a constrictor *1013*. It is diunal during the late spring and early summer *2065*. The home range is 29 acres (males), and 24 acres 9females) *2063*. The throat area is plain white or cream, and the scales are weakly keeled *882*.
ORIGIN: This species is native *2064*. Adult black snakes occupy a home range up to 600 m in diameter and the same home ranges are occupied for many years and possibly life. Maximum distances moved are over 1300 m. These snakes usually use a cover site repeatedly during the active season and the same hibernaculum for years. The most common hibernaculae are hollow trees and stumps. These usually harbored single snakes. Eastern rat snakes have been known to aggregate in winter sometimes in the same dens in which copperheads hibernate. Such a site was discovered on 15 April 1967 in a pile of rotting timbers in Loudoun by W. H. Martin.*10760* Predators of P. alleghaniensisinclude hawks (Buteo spp.), great horned owls (Bubo virginianus), free ranging domestic cats.*10760*
References for Life History
882 - Conant, R., 1958, A field guide to reptiles and amphibians of the United States and Canada east of the 100th Meridian, 366 pgs., Houghton Mifflin Co., Boston, MA
1008 - Barbour, R.W., 1971, Amphibians and reptiles of Kentucky, 334 pgs., Univ. of Kentucky Press, Lexington, KY
1013 - Jackson, J.J., 1983, Snakes of the Northeastern United States, 111 pgs., Ext. Serv., Univ. of GA, Athens, GA
1014 - Martof, B.S., Palmer, W.M., Bailey, J.R., Harrison, III J.R., 1980, Amphibians and Reptiles of the Carolinas and Virginia, 264 pgs., UNC Press, Chapel Hill, NC
2063 - Fitch, H.S., 1963, Natural history of the black rat snake (Elaphe o. obsoleta) in Kansas, Copeia, Vol. 1963, Num. 4, pg. 649-658
2065 - Conant, R., 1938, The reptiles of Ohio, Am. Midl. Nat., Vol. 20, pg. 1-200
10760 - Mitchell, J. C., 1994, The Reptiles of Virginia, 352 pgs., Smithsonian Institution Press, Washington, DC
11523 - Thorp, T.J., 2001, Personal Communication, Expert Review for GAP Analysis Project, Three Lakes Nature Center and Aquarium
Description
Neonates and juveniles are boldly patterned with 28-40 dark blotches on a gray background. A dark diagonal eye stripe extends from in front of the eye and runs to the margin of the mouth. The dorsal pattern remains discernible almost down to tail tip. The juvenile dorsal pattern usually fades to a solid black as the snake approached 3 to 4 feet in total length. However, in some individuals a slight hint of the juvenile pattern my be retained for life. The juvenile eastern ratsnake pictured below is approximately 16 in. in total length.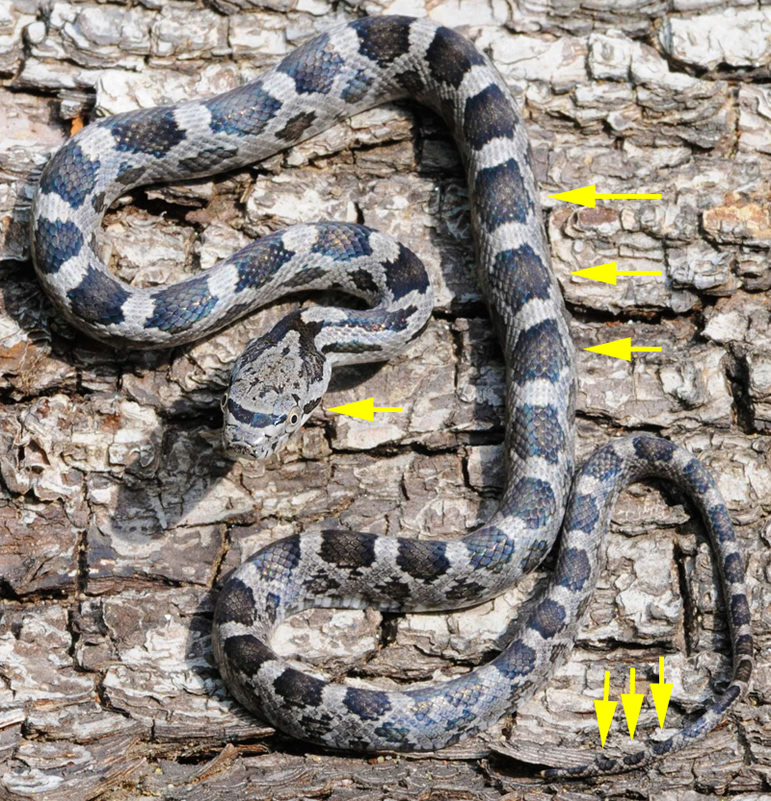 The eastern ratsnake pictured below is 2 ft. in total length. While both dorsal pattern and eye stripe are fading, they are still discernible.
The specimen pictured below has reached 3 ft. in total length. The eye stripe and dorsal pattern are almost completely obscured.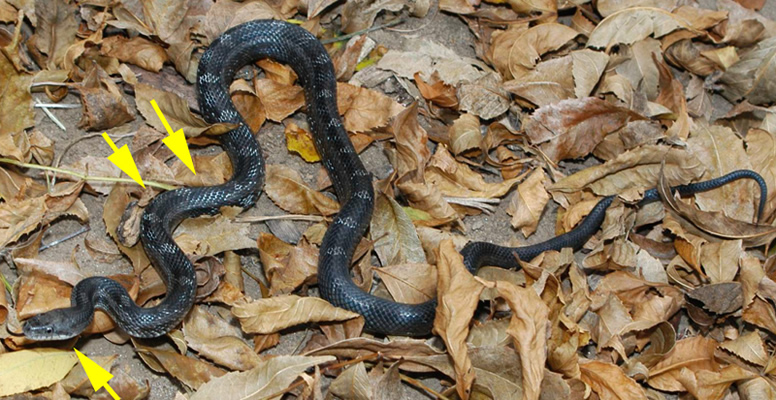 The below 5 ft. specimen has a completely black dorsum.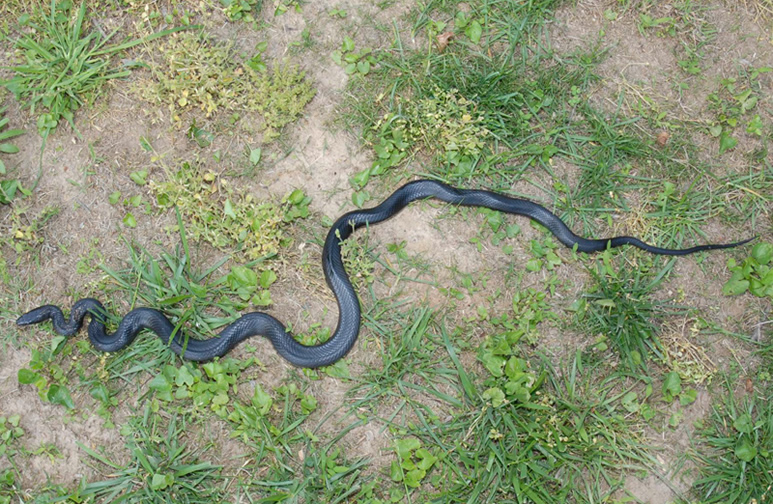 Note the lack of eye stripe and the weakly keeled scales in the adult eastern ratsnake pictured below.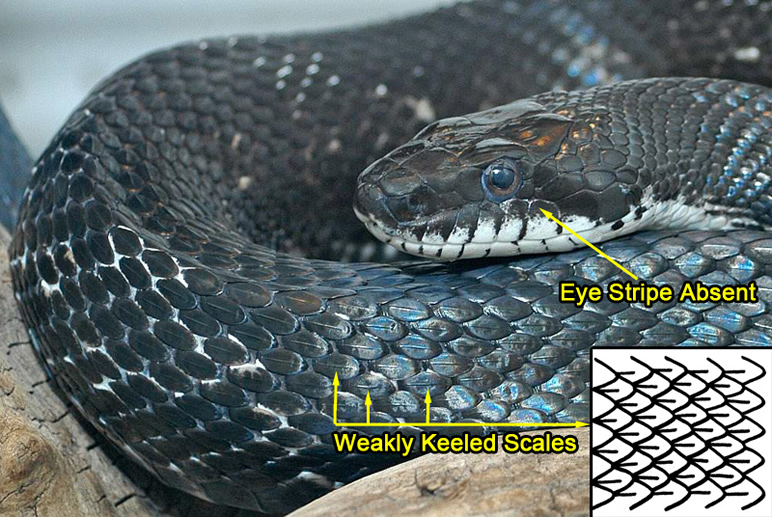 The venter (belly) of the eastern ratsnake is black and white, often resembling a checkerboard pattern with interspersed
black blotches. This pattern fades as it approaches the posterior. In the cross-section the body shape of the
eastern ratsnake is shaped similar to that of a loaf of bread.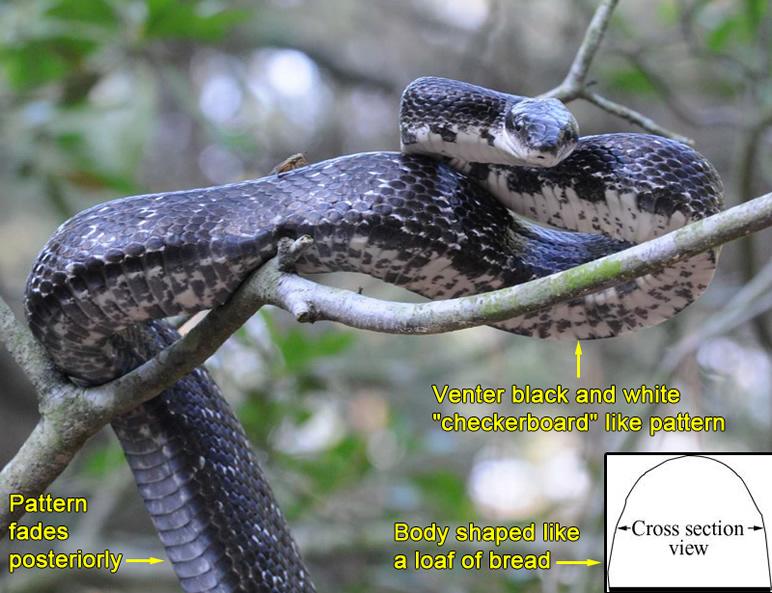 Defensive Behaviors
As with all our native snakes the eastern ratsnake would rather flee than fight. However, if the snake feels cornered it will
bite. In an effort to appear more formidable, the eastern ratsnake distort the shape and size of its head when threatened.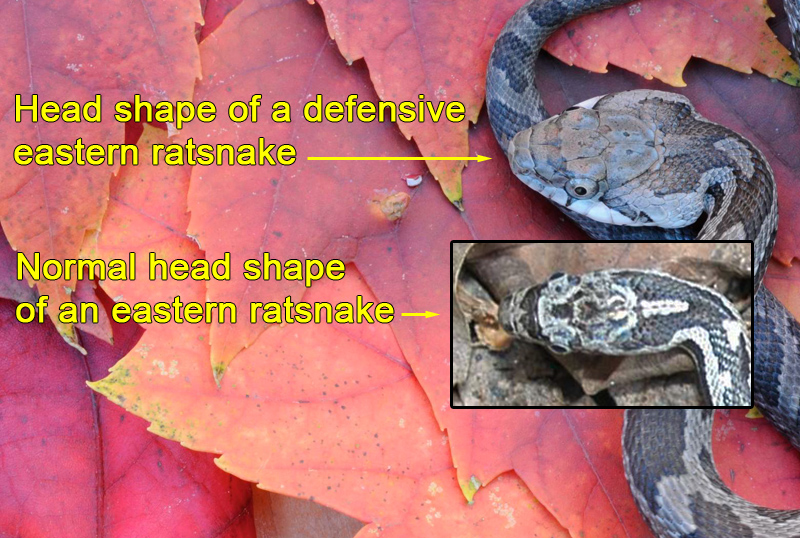 Another defensive strategy involves the ratsnake raising the front portion of its body off the ground in a 'S' shape coil. This makes the snake look
more formidable and increases the snake's effective striking range. It's not uncommon for the snake to hiss loudly as it strikes from this position.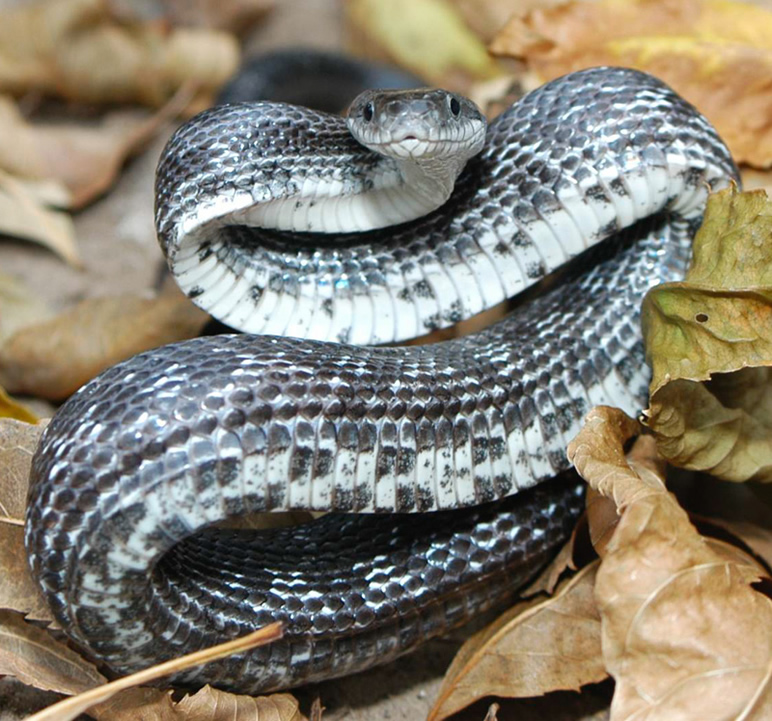 Confusing Species
The species most often mistaken for an eastern ratsnake in Virginia is the northern black racer.
Both the eastern ratsnake and the northern black racer have a juvenile pattern that does not resemble the adult version.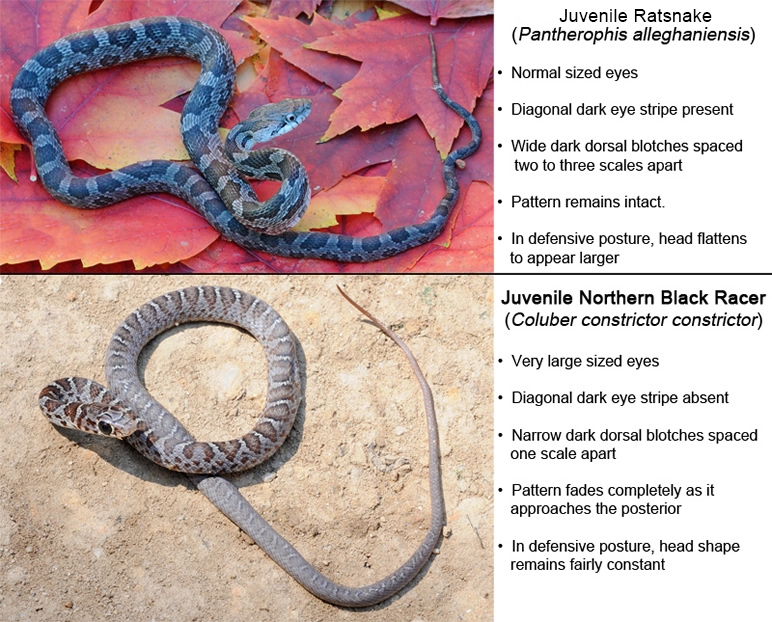 Unlike the eastern ratsnake which has weakly keeled scales, the scales of the northern black racer are smooth.
Both the eastern ratsnake and the northern black racer have a whitish chin and neck.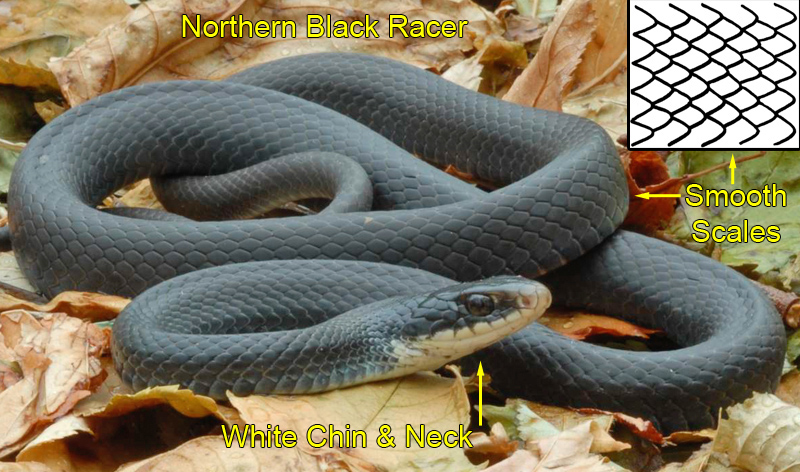 Unlike the checkerboard pattern found on the ventral side of the eastern ratsnake, the venter
of the northern black racer is a solid dark gray that changes to a light gray under the tail.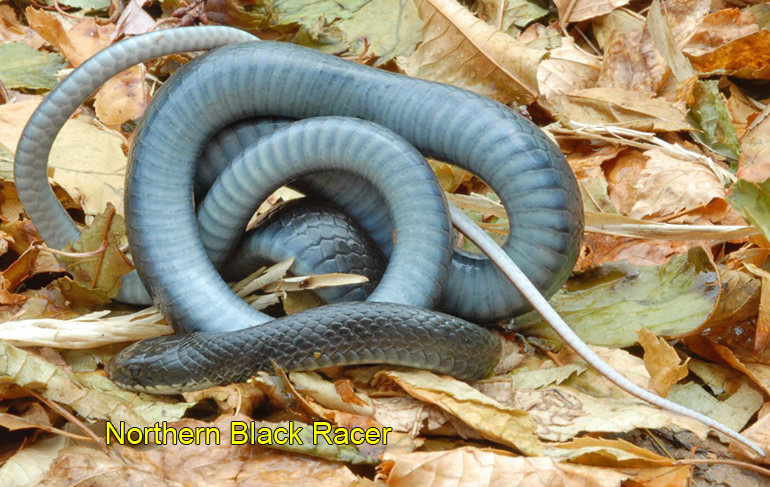 Photos:
*Click on a thumbnail for a larger version.
Verified County/City Occurrence
Accomack County
Albemarle County
Alexandria City
Alleghany County
Amelia County
Amherst County
Appomattox County
Arlington County
Augusta County
Bath County
Bedford City
Bedford County
Bland County
Botetourt County
Brunswick County
Buckingham County
Campbell County
Caroline County
Carroll County
Charles City County
Charlotte County
Charlottesville City
Chesapeake City
Chesterfield County
Clarke County
Craig County
Culpeper County
Cumberland County
Dinwiddie County
Essex County
Fairfax County
Fauquier County
Floyd County
Fluvanna County
Franklin County
Frederick County
Giles County
Gloucester County
Goochland County
Grayson County
Greene County
Greensville County
Halifax County
Hampton City
Hanover County
Henrico County
Henry County
Highland County
Isle of Wight County
James City County
King and Queen County
King George County
King William County
Lancaster County
Lee County
Loudoun County
Louisa County
Lynchburg City
Madison County
Manassas City
Martinsville City
Mathews County
Mecklenburg County
Middlesex County
Montgomery County
Nelson County
New Kent County
Newport News City
Norfolk City
Northampton County
Nottoway County
Orange County
Page County
Patrick County
Petersburg City
Pittsylvania County
Poquoson City
Portsmouth City
Powhatan County
Prince Edward County
Prince George County
Prince William County
Pulaski County
Radford City
Rappahannock County
Richmond City
Richmond County
Roanoke County
Rockbridge County
Rockingham County
Scott County
Shenandoah County
Smyth County
Southampton County
Spotsylvania County
Stafford County
Suffolk City
Surry County
Sussex County
Tazewell County
Virginia Beach City
Warren County
Washington County
Westmoreland County
Winchester City
Wise County
Wythe County
York County
Verified in 108 Counties/Cities.


---