Eastern Painted Turtle
Chrysemys picta picta
| | |
| --- | --- |
| Common Name: | Eastern Painted Turtle |
| Scientific Name: | Chrysemys picta picta |
| Etymology: | |
| Genus: | Chrysemys is derived from the Greek words chrysos meaning "gold" and emys which means "freshwater tortoise". |
| Species: | picta is derived from the Latin word pictus which means "painted". |
| Subspecies: | picta is derived from the Latin word pictus which means "painted". |
| Average Length: | 4.5 - 6 in. (11.5 - 15.2 cm) |
| Virginia Record Length: | 7 in. (17.9 cm) |
| Record length: | 7.2 in. (18.2 cm) |
PHYSICAL DESCRIPTION: This species is small (10-25 cm), maximum body mass 600 grams, with red markings on the marginals and a notched upper jaw. The carapace is smooth, oval flattened, and keelless, with the highest and widest points at the center, posterior margin without serration. The carapace is olive to black with yellow or red borders along the seams and red bars or crescents on the marginals; 12/12 marginals, 4/4 pleurals, and 5 vertebral scutes, most variation is in additional or divided vertebrals. Transverse seams of vertebral and pleural scutes aligned or nearly so and seams bordered by band of yellow to yellow-orange 1-5 mm wide to form 2-3 narrow crossbands, the anteriormost one being the widest. Marginals have very little markings on top but they are brightly patterned with red circles on the plastral side. Plastron usually has no pattern but some individuals have dark figures of highly variable design and size bordering the midline. It is yellowish, hingeless, and is 89-96% of carapace length. Skin is black to olive and the neck, legs and tail are striped with red and yellow. The head is striped with yellow and a yellow line extends rearward from below the eye and may meet a similar line from the lower jaw. There is a yellow streak on each side of the head behind the eyes. The chin is marked with 2 wide yellow lines which meet at the tip of the jaw and enclose a narrow yellow stripe *2988,10760*.
SEXUAL DIMORPHISM: Adult males have elongated foreclaws and flattened shells. Females are bigger in all shell dimensions. The shell of mature females is slightly domed posteriorly and they lack elongated foreclaws *10760*.
JUVENILES: They look like adults but carapace is more round during first two years. Hatchlings are 18.3-29.2 mm carapace length, 17.3-26.4 mm plastron length and weigh 2.6-5.8 grams *10760*. Confusing species: They can be confused with Pseudemys rubriventris and P. concinna but these turtles lack the 2 yellow spots on the head, and are usually much larger, and have high domed shells compared to painted turtles. Trachemys scripta scripta have a serrated posterior margin of the carapace and an elongated yellow bar on the side of the head. T.s. elegans has an elongated, reddish patch behind the eye. Deirochelys reticularia has a high domed carapace and a very long head and neck *10760*.
GEOGRAPHIC VARIATION: Considerable variation exists throughout Virginia populations of C.p. picta, the eastern painted turtle. The alignment of the seams on the pleural and vertebral scutes, and presence of the specific figure on the plastron of C.p. marginata, the midland painted turtle. Populations in the upper James River drainage in Bath and Highland may be intergrades between the two subspecies. The olive color of these turtles is considerably lighter than elsewhere in Va. and there is great variation among individuals. Some painteds in dark blackwater or cypress swamps have nearly black carapaces with bright yellow plastrons *10760,11624*.
REPRODUCTION: Mating occurs from March to June. They have 1-2 clutches of 3-9 eggs per year. Nesting usually occurs between May and July. In the lab incubation time was between 62-76 days but in the wild hatchlings may overwinter in the nest *10760*. The eggs are elliptical in shape with average dimension of 1.3 by 0.905 inches *1027*. The shell is white and thin *1007*. The male is sexually mature at 4 years, and the females are sexually mature at 5 years *2988*. The male chooses a female and by swimming rapidly overtakes her. When well in front, the male turns to face her and continues to swim, now backwards, extending his forelimbs, with palms outward, he rapidly caresses her chin and side of head with the back of his long claws. This continues over and over again until copulation occurs *1007*.
BEHAVIOR: They season of activity lasts from March through October. Hibernation occurs in the water wedged under logs or stumps or in beaver or muskrat lodges. They rarely move on land except adults during the nesting season. Juveniles show to move the least often, and when they do, the distance has proved to be the shortest, or to the closest pond. Due to the small size of juveniles, terrestrial movement would be highly risky. A study at Blandy Experimental Farm, in Clarke County, showed that adult males moved between ponds more than any other class of age or sex. Such interpond movement is hypothesized to be a response of habitat and reproductive quality. Most movement seemed to coincide with lowering water levels at the pond from which the animal left. They are frequent baskers and are often seen piled on logs or other partly submerged object. Aggressive behavior has been observed during basking sessions; mainly pushing and biting. Males are more frequently active early and late in the activity seasons while females expend much of there energy during nesting *10760,2988,11624,12107*.
ORIGIN: This species is native *10760*.
POPULATION PARAMETERS: The sex ratio is 1:1 *2988*. One Henrico population had 517+/-17 individuals in the population. Adults had a 94-96% chance of survival from one year to the next while juveniles only had a 46% chance. They have been known to live over 30 years *10760*.
AQUATIC/TERRESTRIAL ASSOCIATIONS: Predators of adults are raccoons and predators of juveniles include mink, muskrats, crows, black racers, larger turtles, bullfrogs and large fish. Predators of eggs include gray squirrel, skunks, foxes, raccons, garter snakes and man *2988,11624*. Automobiles and pesticides are causes of mortality for adults *2988*. They are found anywhere there is freshwater but they perfer a site with a soft substrate, aquatic vegetation and several basking sites *10760*.
References for Life History
1007 - Babcock, H.L., 1971, Turtles of the Northeastern United States, 105 pgs., Dover Publ., New York, NY
1027 - Carr, A.F., 1952, Handbook of Turtles. Turtles of the United States, Canada, and Baja California, 542 pgs., Comstock Publ. Assoc., Cornell Univ. Press, Ithaca, NY
1038 - Pope, C.H., 1939, Turtles of the United States and Canada, 343 pgs., Alfred A. Knopf, Inc., New York, NY
2988 - Ernst, C.H., R.W. Barbour, 1972, Turtles of the United States, 347 pgs., Univ. Press of Kentucky, Lexington
10760 - Mitchell, J. C., 1994, The Reptiles of Virginia, 352 pgs., Smithsonian Institution Press, Washington, DC
11624 - Mitchell, J. C., 2001, Personal Communication, Expert review for GAP Analysis Project, Mitchell Ecological Research LLC
12107 - Bowne, D. R., 2003, Interpond movement patterns of Chrysemys picta picta (eastern painted turtles) in Virginia. Linnaeus Fund Research Report, Chelonian Conservation and Biology, Vol. 4, Num. 3, pg. 739-741, Chelonian Research Foundation
Identification Characteristics: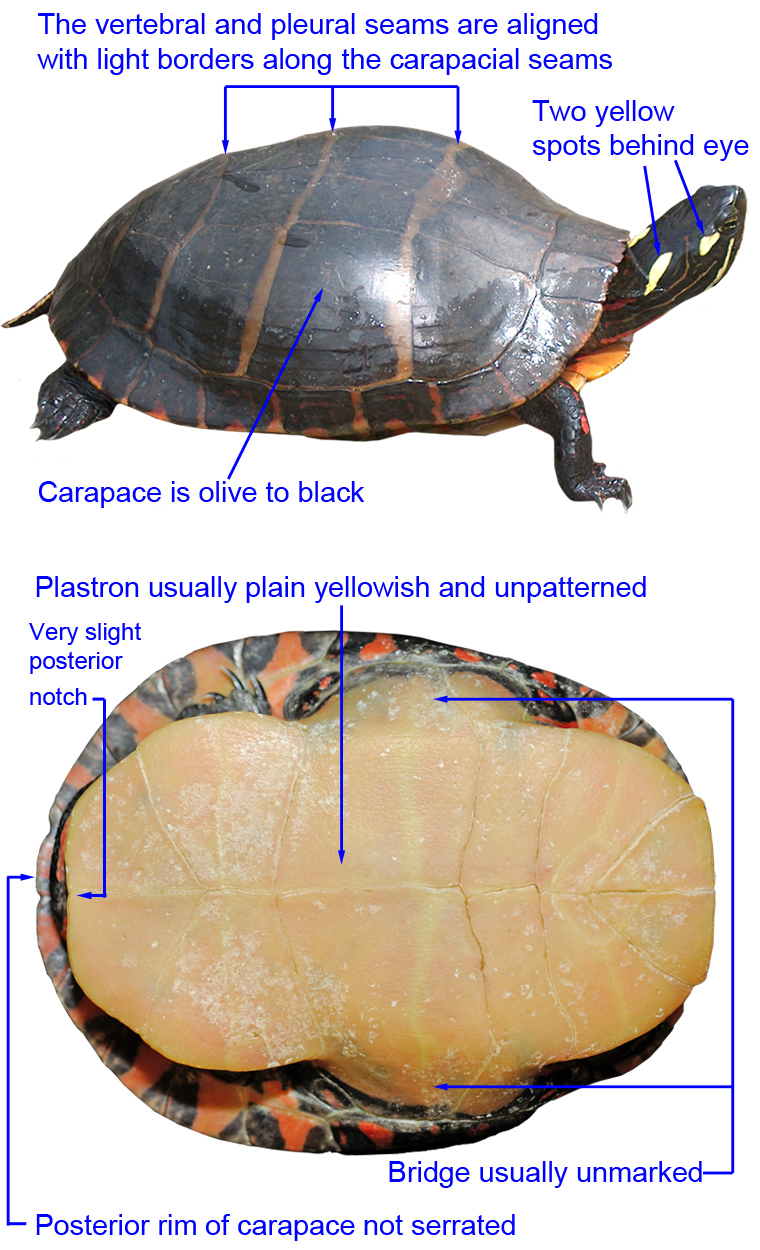 Photos:
*Click on a thumbnail for a larger version.
Verified County/City Occurrence
Accomack County
Albemarle County
Alexandria City
Alleghany County
Amelia County
Amherst County
Appomattox County
Arlington County
Augusta County
Bath County
Bedford County
Botetourt County
Brunswick County
Buchanan County
Buckingham County
Campbell County
Caroline County
Charles City County
Charlotte County
Chesapeake City
Chesterfield County
Clarke County
Culpeper County
Cumberland County
Dinwiddie County
Essex County
Fairfax County
Fauquier County
Fluvanna County
Frederick County
Giles County
Gloucester County
Goochland County
Greene County
Greensville County
Halifax County
Hampton City
Hanover County
Henrico County
Henry County
Highland County
Isle of Wight County
James City County
King George County
King William County
Lancaster County
Loudoun County
Louisa County
Lynchburg City
Madison County
Manassas City
Manassas Park City
Mathews County
Mecklenburg County
Middlesex County
Montgomery County
Nelson County
New Kent County
Newport News City
Norfolk City
Northampton County
Northumberland County
Nottoway County
Orange County
Page County
Patrick County
Pittsylvania County
Powhatan County
Prince Edward County
Prince George County
Prince William County
Pulaski County
Rappahannock County
Richmond County
Roanoke County
Rockbridge County
Rockingham County
Scott County
Shenandoah County
Smyth County
Southampton County
Spotsylvania County
Suffolk City
Surry County
Sussex County
Tazewell County
Virginia Beach City
Warren County
Waynesboro City
Westmoreland County
Williamsburg City
Wythe County
York County
Verified in 93 Counties/Cities.


---