Snapping Turtle
Chelydra serpentina
| | |
| --- | --- |
| Common Name: | Snapping Turtle |
| Scientific Name: | Chelydra serpentina |
| Etymology: | |
| Genus: | Chelydra is derived from the Greek word chelydra which means "tortoise". |
| Species: | serpentina is derived from the Latin word serpentis meaning "snake". Referring to the long tail of the turtle. |
| Average Length: | 8 - 14 in. (20.3 - 36 cm), weight 10 - 35 lbs. (4.5 - 16 kg) |
| Virginia Record | 18 1/3 in. (46.5 cm). 51 lbs.(23.13 kg) |
| Record length: | 19.4 in. (49.4 cm), wild caught weight 75 lbs. (34 kg), captive weight 86 lbs. (39 kg) |
PHYSICAL DESCRIPTION: Snapping turtles are from 8-19 inches long and weigh from 10 to 35 pounds. In VA., max known adult carapace length is 415 mm (16.3 in.), max plastron length is 300 mm (11.8 in.), and max weight is 16.0 kg (35 lbs). They have a large head, a small plastron, and a long tail which is saw-toothed along the upper side. The carapace is rough and with 3 fairly well defined longitudinal keels; carapace becomes smooth with age; the posterior margin of the carapace is serrated, the final 4 marginal scutes on each side of the midline are strongly pointed. There 12 marginals, and 4 pleural scutes on each side of the 5 vertebrals. There is very little variation from individual to individual in this overall carapace plan. The plastron is small (72-76 % of carapace length), narrow and hingeless. The plastron and carapace are connected by a ligament and are not fused. The carapace is brown and the plastron is a lighter cream or brown shade with various black splotches possible. Skin color is a dark brown to black. They have a long neck and a definitively hooked upper jaw. Feet are equipped with long claws and webbing. The carapace is often covered with algae *10760*. Albinos are possible and one was collected in VA Beach in Great Neck Lake *11381*. Males are larger in general, have larger heads and may have a slightly concave plastron. In VA., males have an average 271.9+/-57.3 mm (145-300 mm) plastron length (avg. = 202.3+/-38.5), and weigh 1.53-16.0 kg(avg. = 5.7+/-3.6 kg; 3.4-35.3 lbs). Comparatively, females have a carapace length of 195-337 mm (avg. = 247.8+/-32.6), 155-248 mm plastron length (avg. = 3.8+/-1.7 kg; 3.7-18.7 lbs) *10760,11624*. Juveniles are similar to adults in form and color. The tail will not be saw-toothed and hatchlings will be completely black. In Virginia, hatchling measurements are 28.1-34.5 mm carapace length (ave. = 31.3+/-1.9 mm), 18.2-23.1 mm plastron length (ave. = 20.9+/-1.1 mm),and weigh 6.7-11.4 grams (avg. = 9.2+/-1.6 g) *10760*. This species is usually not confused with other freshwater turtles in VA.
REPRODUCTION: The breeding season is from late April until November *1027* but most commonly occurs in late May through mid-June *10760*. The incubation period for eggs is 80-90 days *1027,1102*, and the average clutch size is 27 but can vary between 7 and 55 with a Virginia record of 67 *10760, 11380*. August is the usual month for hatchlings to emerge *10760*. Overwintering in the nest may occur because C.H. Ernst has observed hatchling sized specimens in Fairfax county in late April and May *10760*. The eggs vary in diameter from about 0.945 to 1.30 inches and are spherical or slightly oblong, leathery and white *1008,1027*. This species has one reproductive period/year *1027*. During mating the male usually holds his position atop the female's shell by clinging to the under edge of her shell with the claws of all four feet. The tail is then twisted and curved upward and manipulated until contact between vents has been made *1027,11624*. The smallest female known to be reproductively mature was 155 mm plastron length. The nests, consisting of flask-shaped single cavities, are dug in a wide variety of soils.
BEHAVIOR: They are found in any permanent body of fresh water *1027,1102*, and are found more often in bodies of water with soft, muddy bottoms *1027*. They can also be found in brackish water *1027,1102*. They hibernate from October to mid-April or May *1027,1008*, and may hibernate gregariously. They may migrate from one body of water to another covering distances of 1/2 mile or more *1027*. They often bury themselves in mud with only their eyes showing and wait for prey *1027,1008,882,3640*. Females may wander as far as 1/2 mile before making a nest. Each egg is directed to the bottom of the nest by a hind leg *1027,1008,3640*. The female may completely bury herself before laying the eggs *3640*. They seldom bask in the sun *1102*. They are aggressive turtles on land and can do serious harm if threatened. Their behavior is not aggressive at all when encountered in the water *10760*.
ORIGIN: The origin of this species is native *1027,1008,1038,2988*.
POPULATION PARAMETERS: The sex ratio is 1:1 with hatchlings and is maintained into adulthood *2988*. From a population in Canada it was found that males occupied overlapping home ranges with little territoriality and females had an almost 97% annual survivorship rate. In South carolina it was found that 20.6-21.6 kg per hectare was the biomass of two populations *10760*
AQUATIC/TERRESTRIAL ASSOCIATIONS: Predators of the nest include crows, mink, skunks, foxes and raccoons. Predators on hatchlings and juveniles are herons, bitterns, crows, hawks, bullfrogs, large fish and snakes. Predator of adults are man *2988*. Snapping turtles eat mainly dead fish, crayfish, frogs, aquatic insects, and also aquatic vegetation. They may prey on waterfowl, especially young birds *10760*.
References for Life History
882 - Conant, R., 1958, A field guide to reptiles and amphibians of the United States and Canada east of the 100th Meridian, 366 pgs., Houghton Mifflin Co., Boston, MA
1008 - Barbour, R.W., 1971, Amphibians and reptiles of Kentucky, 334 pgs., Univ. of Kentucky Press, Lexington, KY
1027 - Carr, A.F., 1952, Handbook of Turtles. Turtles of the United States, Canada, and Baja California, 542 pgs., Comstock Publ. Assoc., Cornell Univ. Press, Ithaca, NY
1038 - Pope, C.H., 1939, Turtles of the United States and Canada, 343 pgs., Alfred A. Knopf, Inc., New York, NY
1102 - Cochran, D.M., C.J. Goin, 1970, The new field book of reptiles and amphibians, 359 pgs., G.P. Putman's Sons, NY
2988 - Ernst, C.H., R.W. Barbour, 1972, Turtles of the United States, 347 pgs., Univ. Press of Kentucky, Lexington
3640 - Morris, P.A., 1974, An introduction to the Reptiles and Amphibians of the United States., 250 pgs., Dover Publications, Inc., New York
10760 - Mitchell, J. C., 1994, The Reptiles of Virginia, 352 pgs., Smithsonian Institution Press, Washington, DC
11380 - Mitchell, JC, Odom, MC, 1995, Record Clutch size for Chelydra serpentina (Testudines: Chelydridae) in Virginia, Brimleyana, Vol. 22, pg. 73-75
11624 - Mitchell, J. C., 2001, Personal Communication, Expert review for GAP Analysis Project, Mitchell Ecological Research LLC
Photos:
*Click on a thumbnail for a larger version.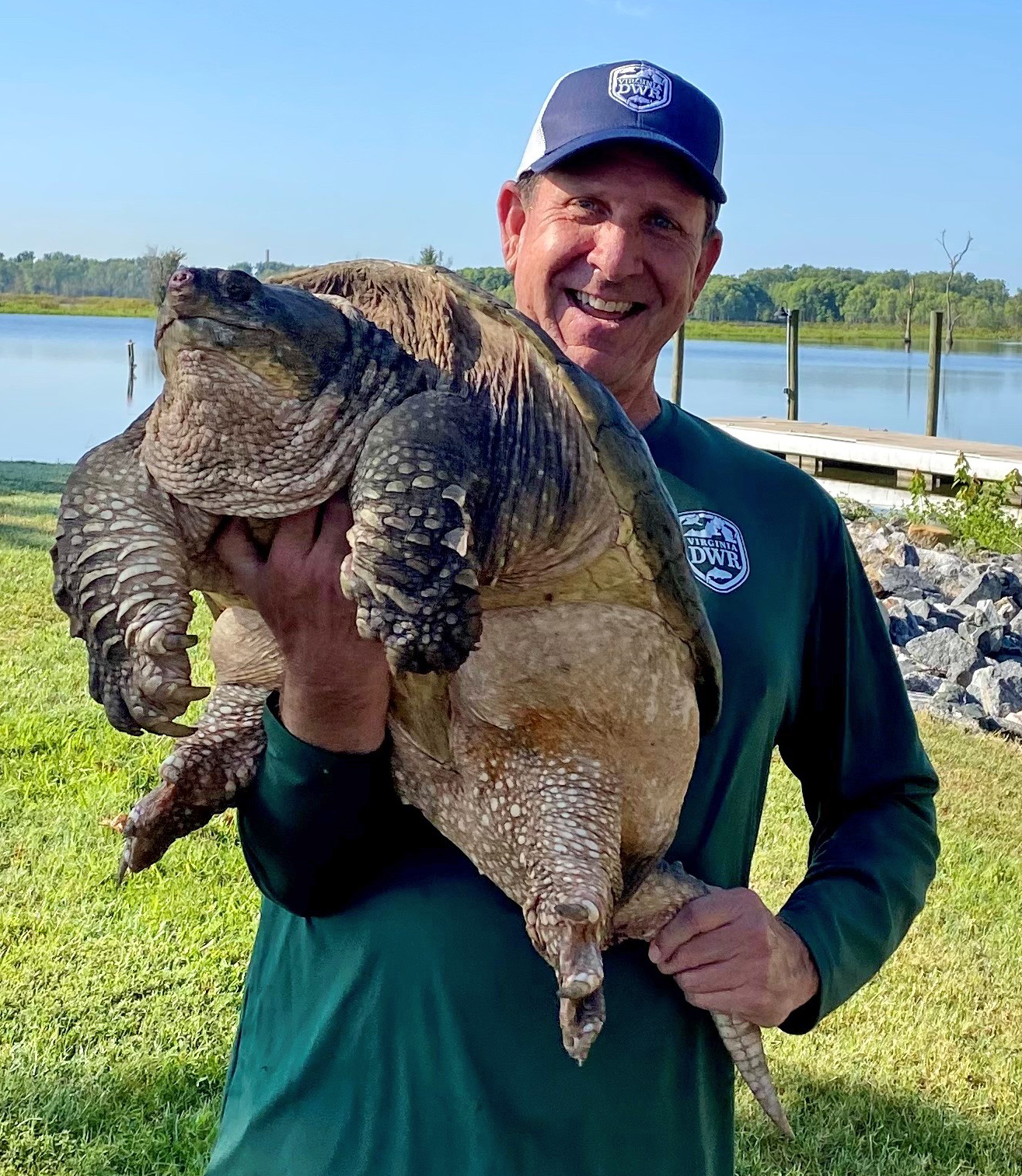 JD Kleopfer of the VA-DGIF holds all that remains of a Virginia record Eastern Snapping Turtle (Chelydra serpentina). This specimen was caught at Ft. Pickett in August 2008 by a commercial snapping turtle fisherman. The turtle weighed in at 51 lbs. (23.13 kg) with a straight-line carapace length of 18 1/3 in. (46.5 cm). The previous Virginia record was 35 lbs. (16.0 kg) with a straight-line carapace length of 16.3 in. (41.5 cm).
Verified County/City Occurrence
Accomack County
Albemarle County
Alexandria City
Alleghany County
Amelia County
Amherst County
Arlington County
Augusta County
Bath County
Bedford City
Bedford County
Bland County
Botetourt County
Brunswick County
Buckingham County
Campbell County
Caroline County
Carroll County
Charles City County
Charlotte County
Chesapeake City
Chesterfield County
Clarke County
Craig County
Cumberland County
Danville City
Dickenson County
Dinwiddie County
Essex County
Fairfax County
Fauquier County
Floyd County
Frederick County
Giles County
Goochland County
Grayson County
Greene County
Greensville County
Hampton City
Hanover County
Henrico County
Henry County
Highland County
Isle of Wight County
James City County
King and Queen County
King George County
King William County
Lee County
Loudoun County
Lynchburg City
Madison County
Martinsville City
Mecklenburg County
Montgomery County
Nelson County
New Kent County
Newport News City
Norfolk City
Northampton County
Northumberland County
Nottoway County
Orange County
Page County
Patrick County
Pittsylvania County
Poquoson City
Prince Edward County
Prince George County
Prince William County
Pulaski County
Richmond County
Roanoke City
Rockbridge County
Rockingham County
Russell County
Scott County
Shenandoah County
Smyth County
Southampton County
Spotsylvania County
Stafford County
Suffolk City
Surry County
Sussex County
Tazewell County
Virginia Beach City
Warren County
Washington County
Westmoreland County
Williamsburg City
Wise County
York County
Verified in 93 Counties/Cities.


---